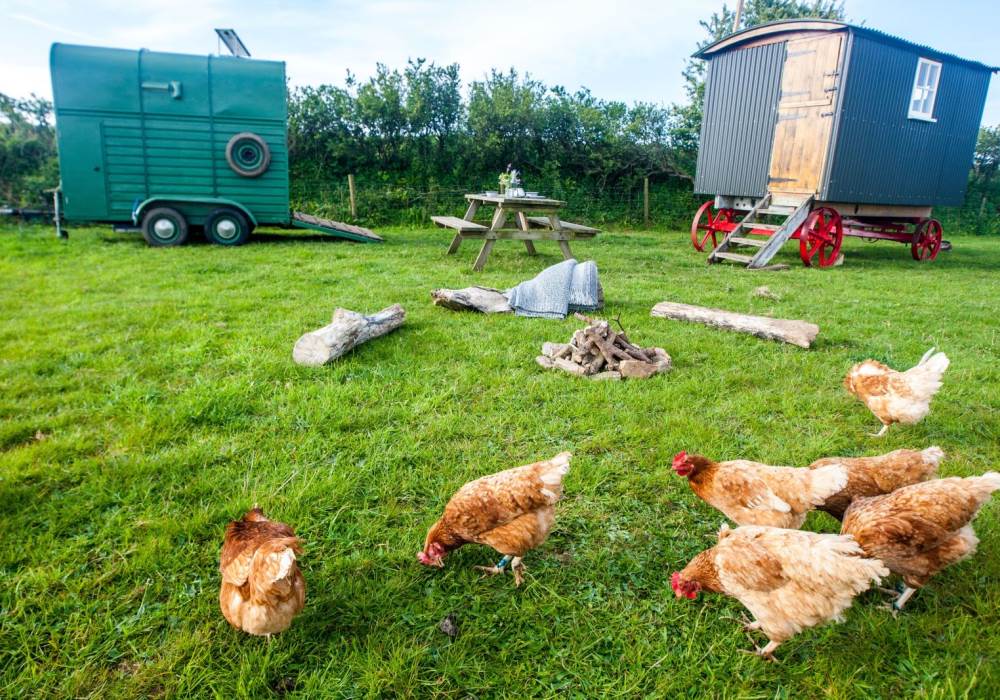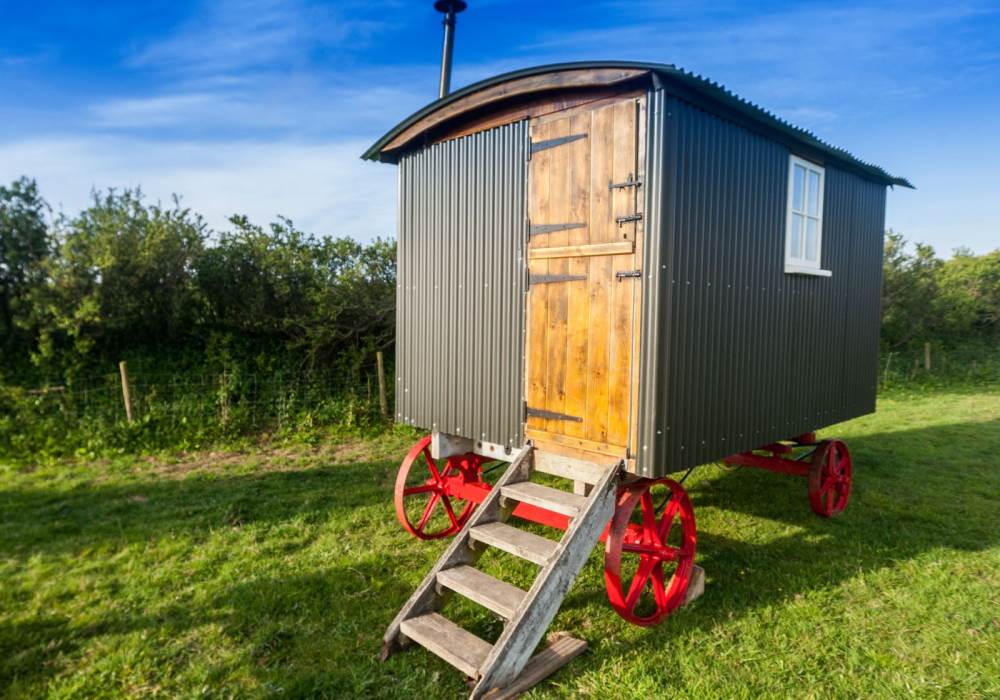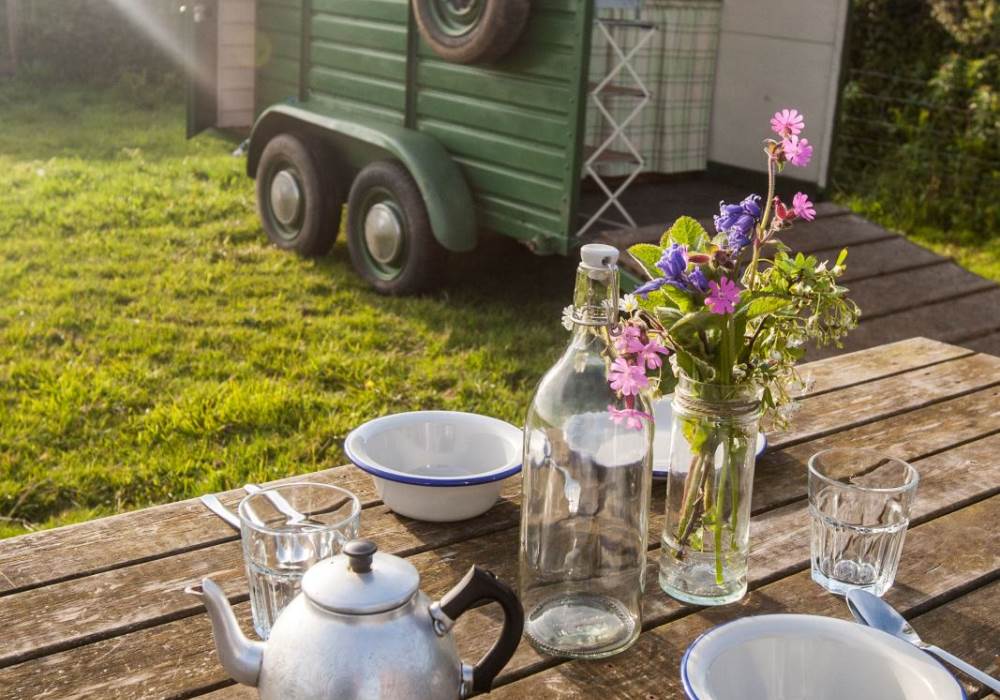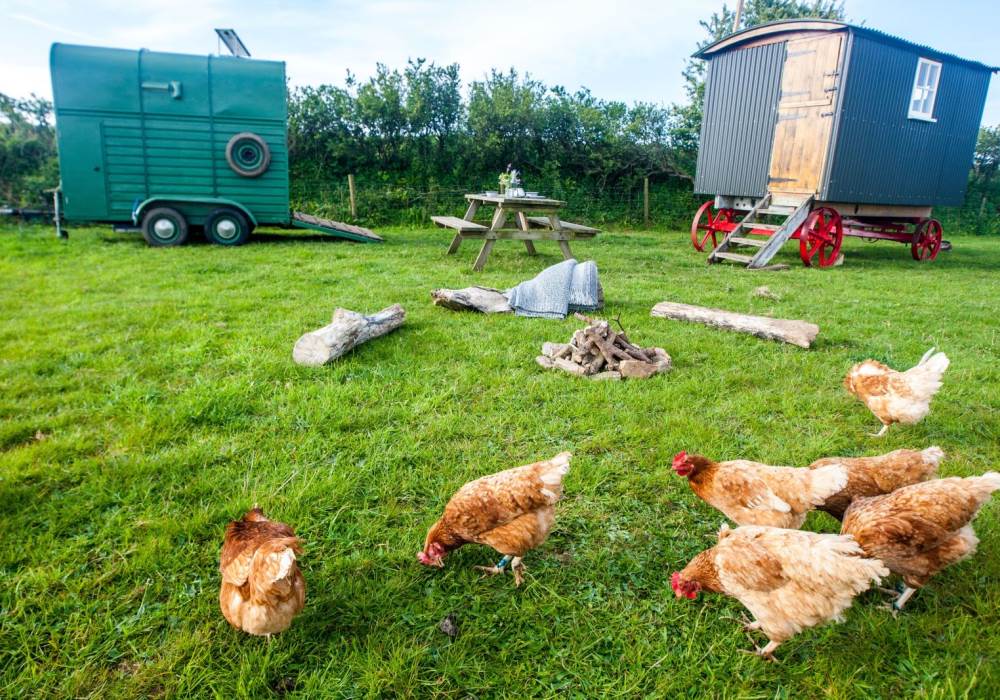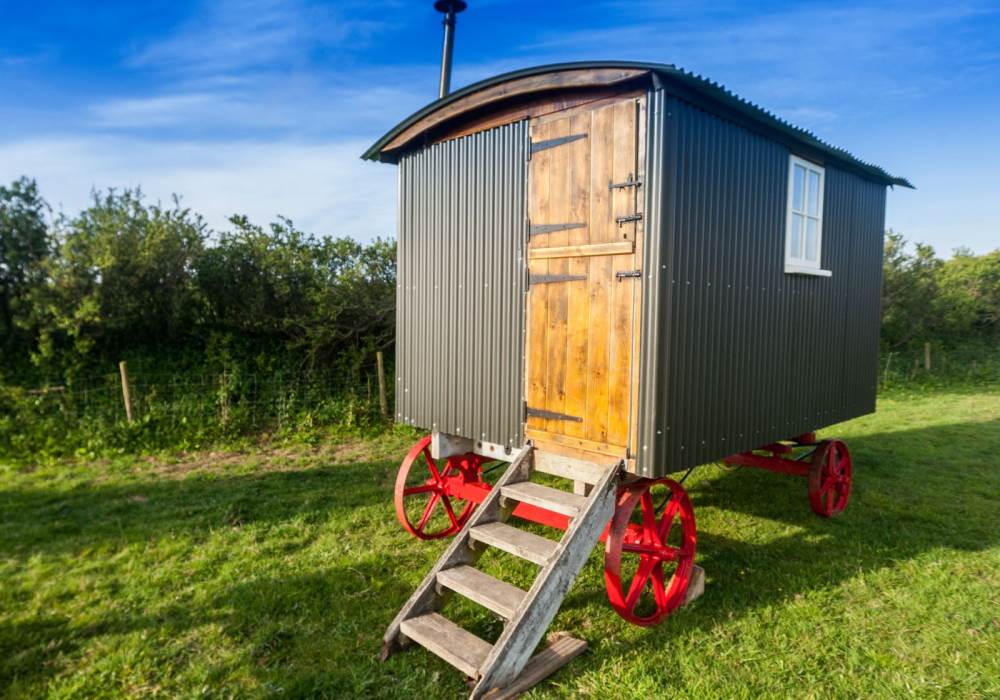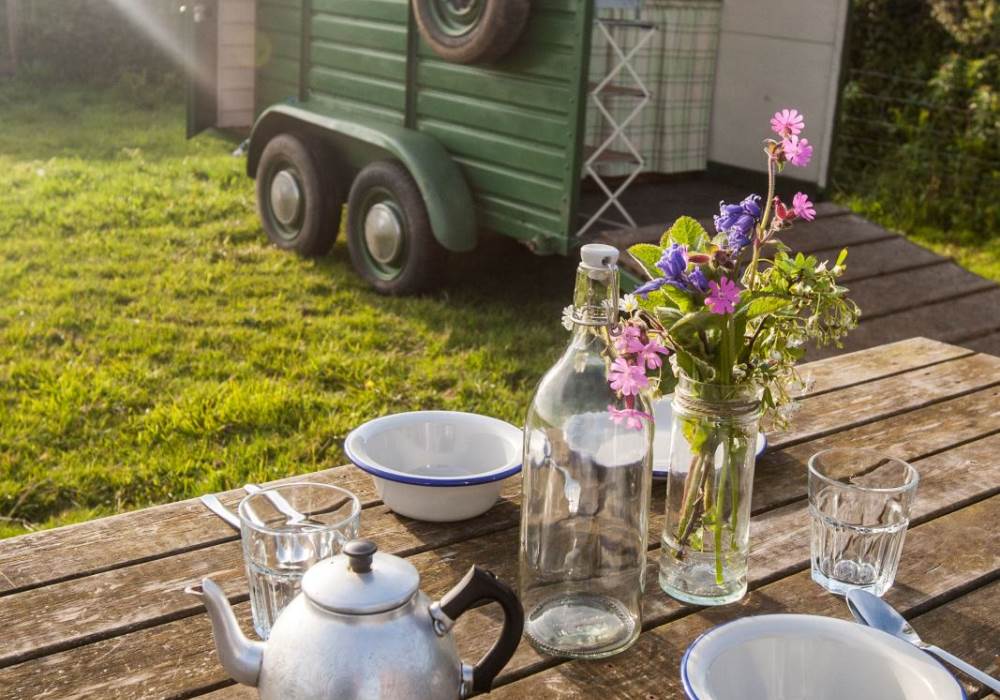 + 8
photos
Hut
Camp Isopel
Sleeps 4
1 Bedroom
1 Pet
About Isopel's Wagon
Camp Isopel is an idyllic retreat. Nestled in nature, the camp is a versatile space accommodating all types of travellers. Whether you're a solo adventurer, a couple taking some time out together, or a family or group seeking a unique holiday, Camp Isopel has it all. There is plenty of space to unwind, connect with nature, and enjoy a different way of living – even just for a short time, it makes the world of difference.
At the heart of the camp is Isopel's Wagon, a charming traditional English shepherd's hut – a beautifully refurbished hut on an original chassis. Fully insulated and equipped with a log-burning stove and a comfortable double bed, the wagon serves as a comfortable space to unwind and get a good night's sleep. It's warm and cosy in the winter, bright and airy in the summer.
Nearby to the Isopel's Wagon is a spacious Bell Tent, offering further space for sleeping or another place to relax. Come sunshine or rain, the Bell Tent is a delightful space for playing board games, losing yourself in a book, storytelling, or simply sitting and observing the daily rhythm of the small holding. You have the flexibility to organise the sleeping arrangements to suit your preferences and ensure a restful night's sleep. The camp is also fenced in, so it is perfect if you have wandering toddlers or a dog.
A unique feature of Camp Isopel is The Horse Box. This creatively repurposed horse box adds a special element to the camping experience. At one end, you'll find a well-equipped kitchenette; and at the other end a thoughtfully designed bathroom, complete with a shower and a waterless toilet, ensuring both comfort and practicality.
For those looking to enhance their outdoor living experience, there is a firepit ready with campfire cooking equipment for those cozy gatherings under the starry sky. Roast marshmallows, cook delicious meals, share stories and reflect on the day's adventures around the flames.
Situated in Hassey Meadow, our South Devon shepherd's hut is perfectly positioned on a coastal plateau just a short walk down to the secluded creeks and gorgeous sandy beaches that line our side of the Salcombe estuary. Or, head in the other direction to pick up the stunning stretch of South West Coast Path that runs through Gara Rock.
Where is Isopel's Wagon?
• The Wagon is in a field called 'Hassey' about 150 metres from Meadow Barn Farm. Your nearest neighbours are Morris and Mable (Devon Large Black pigs), some naughty chickens and a flock of Devon Closewool sheep. There are also some mischievous miniature sheep.
• Hassey Field is the sight of a Scheduled Ancient Monument. At some point (2500 years ago ish…) there was a settlement here and this can be vaguely seen from the sky. So we know even the ancients loved the spot. I speculated that they liked it hear as it is close to the sea but they could also see Dartmoor (their other home).
• The post code for Meadow Barn Farm is TQ88PN. Meadow barn is about 15 mins walk from East Portlemouth Village
• What most people want to know is 'How far are the beaches / walks and where can I get a coffee / beer? So……. You can get lots of coffee and beer in Salcombe. There is a ferry that runs from East Portlemouth and is about 25 mins walk from us. Gara Rock Hotel and beach is about 15 mins walk which is open to the public and serves cold beer and hot coffee. All the beaches are close by and you can walk, cycle or drive to them. They are all nice but if pushed we would recommend Mill Bay for Families or Gara Beach (Seacombe Sands) for couples. There are endless coastal, creek, and country side walks.
• Meadow Barn Farm has a Salcombe address but is on the other side of the water from Salcombe. Please be aware of this. Getting to Salcombe is easy during the day but more tricky at night. Please call us for more info if you need it with regards to getting to and from Salcombe.
• Meadow barn farm is about 20 minutes' drive from Kingsbridge, 50 minutes' drive from Totnes and 30 minutes' drive from Dartmouth.
• If you know the area – we are on the East Prawle to East Portlemouth road near the Gara Rock Turning. We are closer to East Portlemouth than East Prawle. It takes about 30 minutes to walk to East Prawle from us or 5 minutes to drive.
Details of the Accommodation
• The wagon is off grid and has Solar / battery lighting.
• Suitable for couples, solo travellers and groups. The wagon itself is set up for two people, whilst the large 5-metre bell tent sleeps 3 (includes flooring, bedding and roll-up mattresses)
• There is a fridge available in a nearby field shelter, there is also power there if you need to charge phones etc.
• There is a waterless loo and a hot shower cubicle in the front end of the converted horsebox.
• There is a kitchenette in the back end of the horsebox with two gas hob rings. All the basic kitchen / cooking equipment is provided.
• There is easy access to fresh drinking water.
• Though the shower is nice and hot, the taps are not supplied with hot water so you will need to heat water in a pan / kettle for washing up.
• There is a fire area and a picnic bench, you are welcome to use barbeque's.
• The view is incredible and looks back towards Dartmoor.
• There is parking for one car.
• There are a variety of free-range sheep and chickens wandering around. There is also some pigs in an enclosure. They are friendly but remain farm animals. If you are staying, we will make sure the sheep are not in the same field as you are. The chickens we cannot vouch for……
• We often have our own bacon, sausages and eggs available to buy. We also buy in bottles of milk from Dartmouth dairy that you can also buy from us if you need it.
• We are a few hundred yards from the High Nature Centre who run amazing eco and wellness focused events and courses during the summer season. You can view their website here: www.high-nature.co.uk
Around and about
• Once at the wagon you can get supplies by going to Salcombe on the ferry where there are shops. Make sure you bring some supplies for your first night.
• There is a small shop in East Prawle opposite the Pigs Nose Pub in that is open during the season.
• The last shops on the way here if you are traveling by car are either in Kingsbridge or there is a Spar at East Charleton Garage. This is also the nearest fuel stop
• Meadow Barn Farm is a great place to walk from. You can walk to Gara Rock Hotel (www.gararaock.com) by the South West Coastal Path or to the Millbrook Pub in South Pool or to The Pigs Nose Inn in Prawle. If you are planning on walking at night bring a torch.
• The Beaches of East Portlemouth are beautiful, harbour coves and are about 25 minutes' walk away.
• There are endless creeks and coastal or inland walks to explore.
• There is a café by the ferry during the season on the East Portlemouth side of the Eastuary.
• The nearest towns are Salcombe and Kingsbridge. The nearest Garage is in West Charleton.
• There are plenty of pubs, restaurants and cafes in the locality but expect to walk, cycle or drive.
• Gara Rock Hotel is really close by and is a fantastic place to look out across the channel, have a beer or a coffee.
Getting to and from Isopel's Wagon
• Head to Meadow Barn Farm (TQ88PN) and we will can show the wagon when you arrive.
• Buses will take you to Kingsbridge or Salcombe and we can pick you up by prior arrangement.
• The nearest train station is in Totnes from where there are trains to Bristol and London.
• There is lots of opportunity to cycle down here so bring a bike if you like. The hills can be steep though, and the roads narrow. However, as we are on top of the hill, we are at the same height above sea level as East Prawle so cycling there is really easy.
• Taxis are easy to get from Totnes or Kingsbridge. If you are going to an event locally it can be harder to secure a taxi for short local distances as we are so remote. I am happy to help with lifts if you can't find anything else but just check with me in advance ('me' being John).
If you have any specific questions feel free to email us at hello@meadowbarnfarm.com or call 01548844157 / 07983855099 or 07834163954
Other Accommodation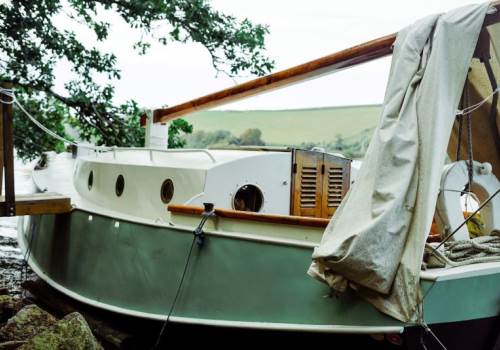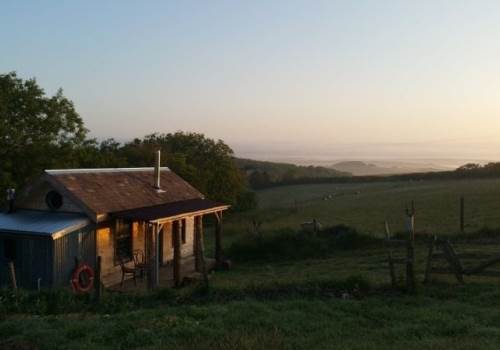 Cabin
Sleeps 4
1 bedroom
Max 1 pet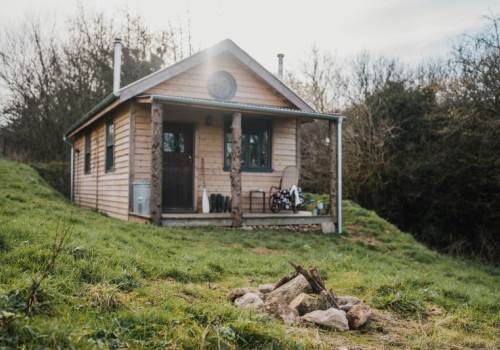 Cabin
Sleeps 4
2 bedrooms
Max 1 pet