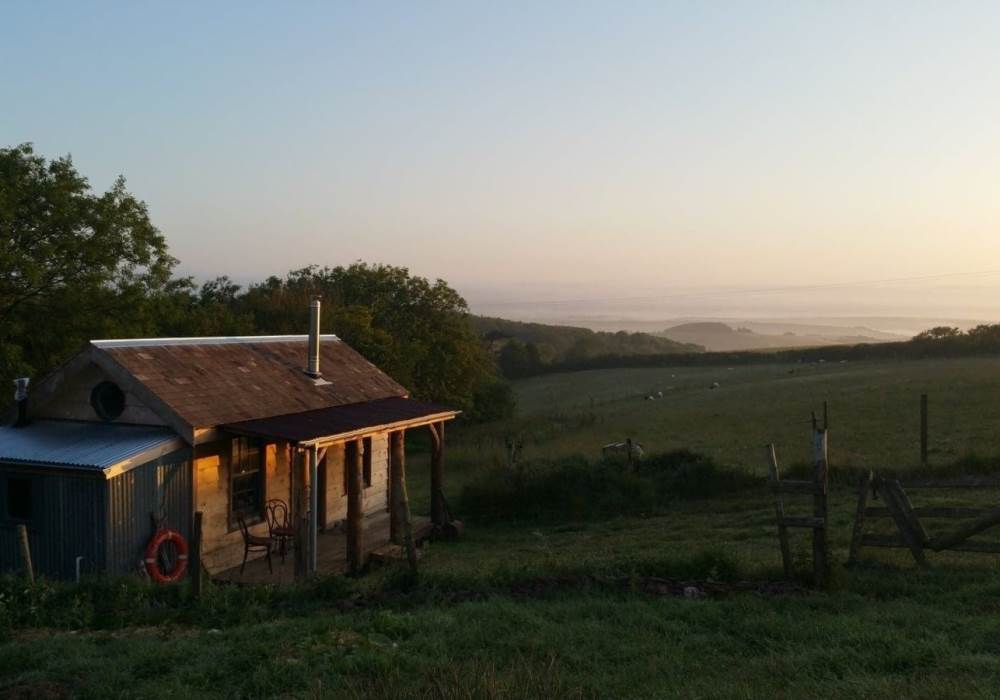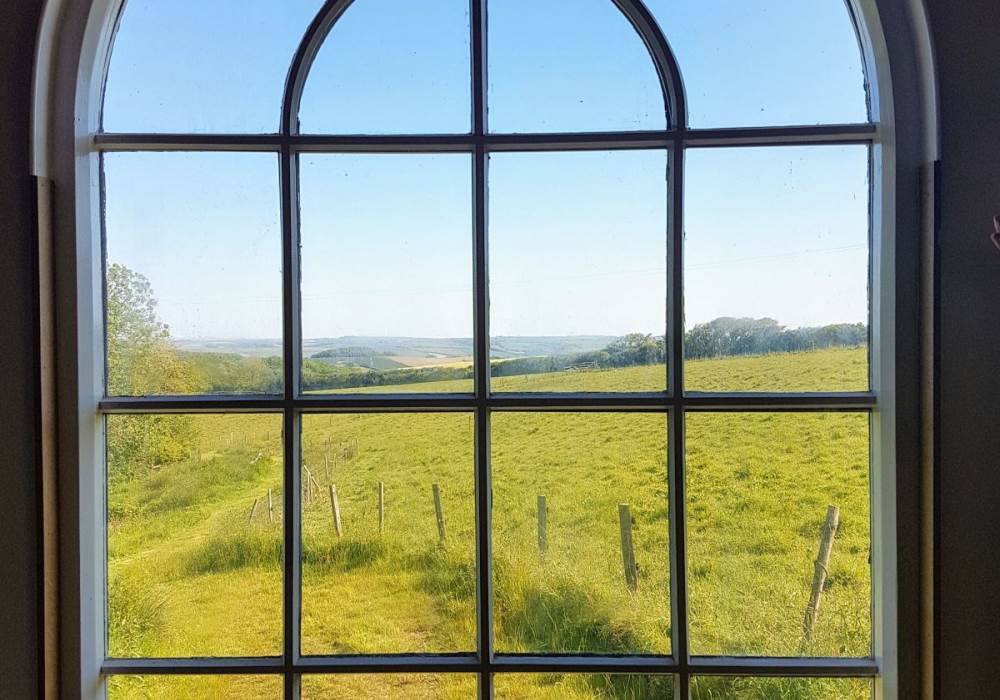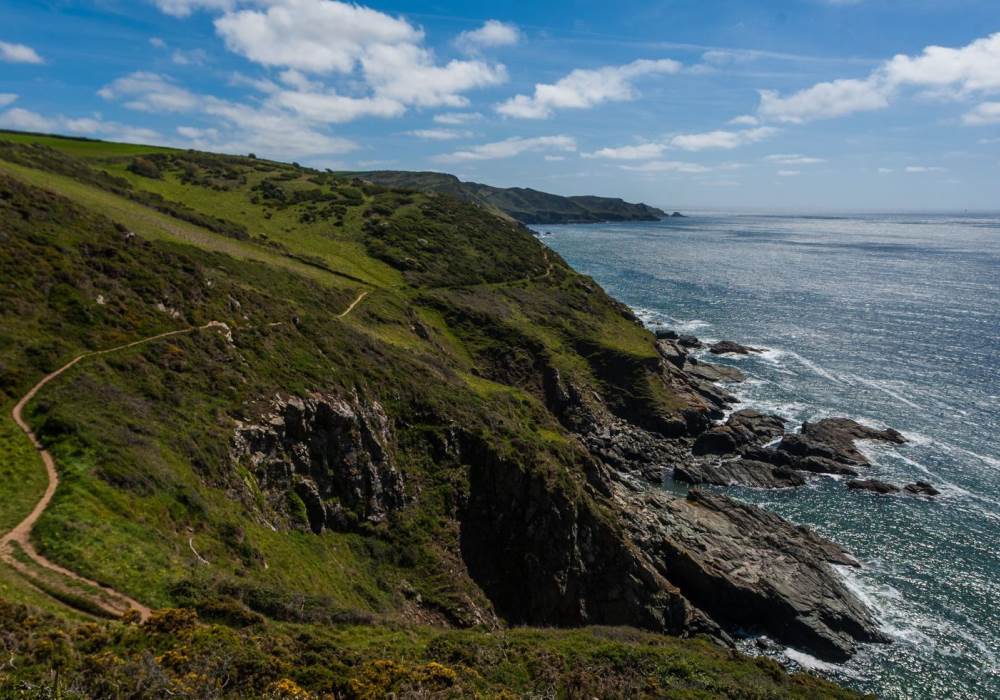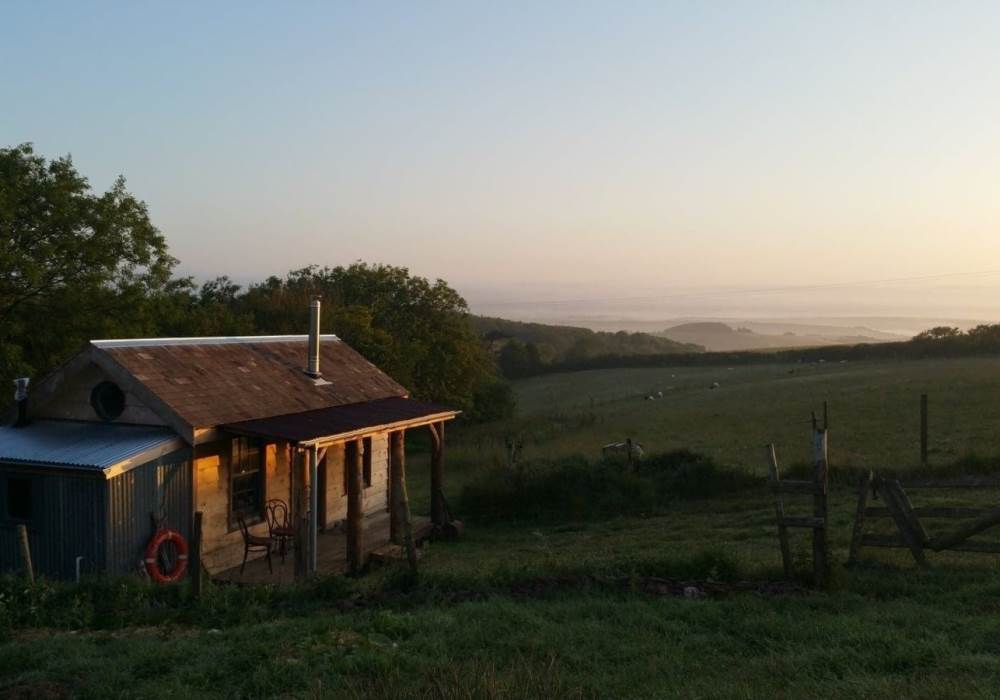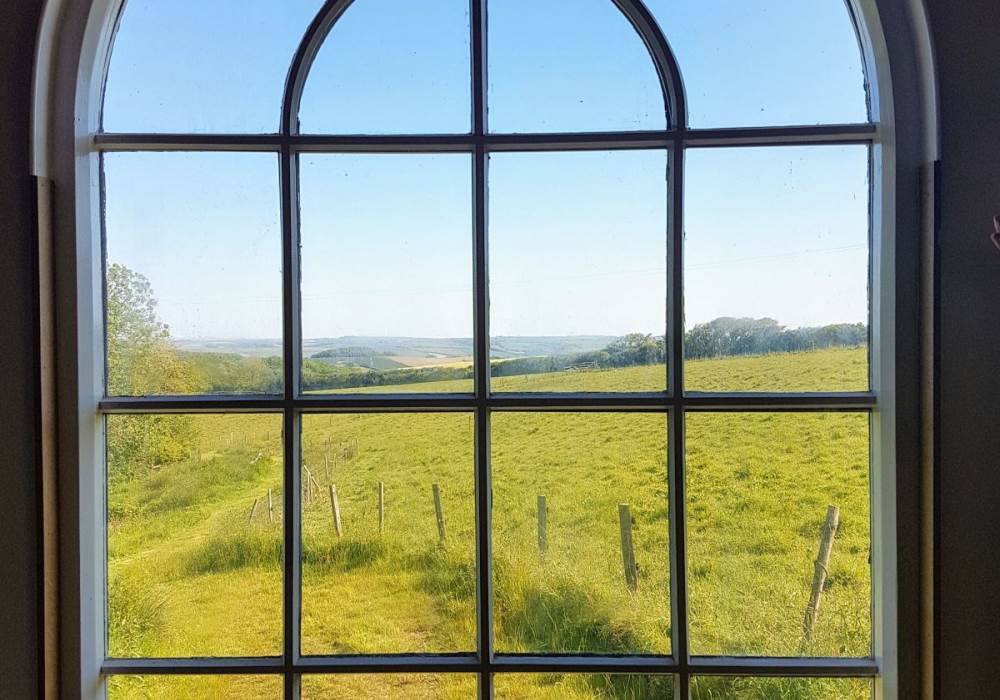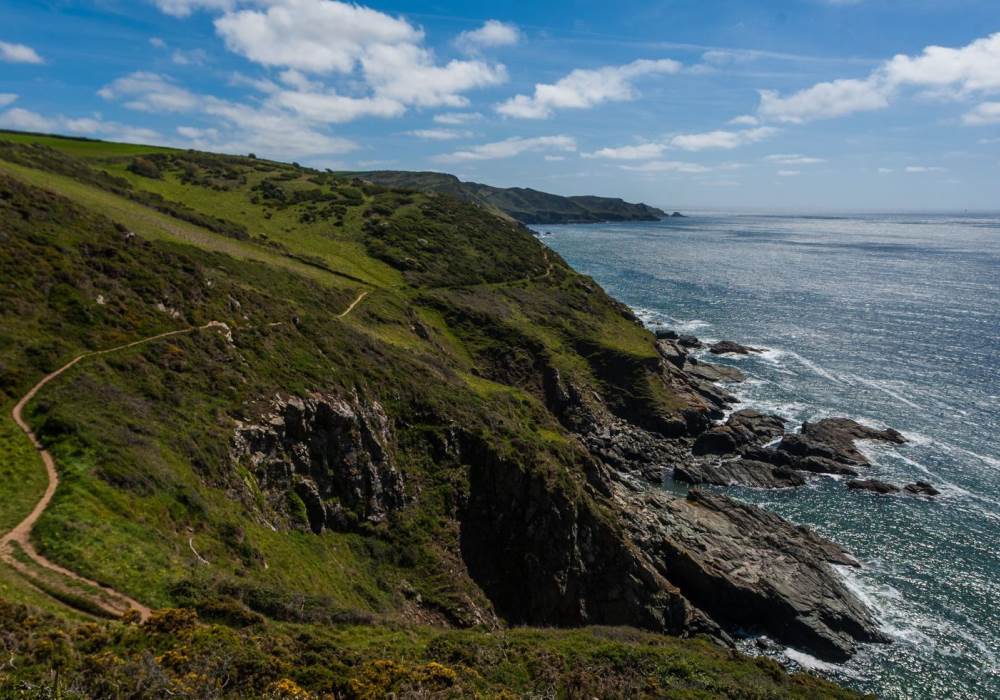 + 20
photos
Cabin
Driftwood Cabin
Sleeps 4
1 Bedroom
1 Pet
About Driftwood Cabin
The Cabin is Situated in The Meadow on Meadow Barn Farm. The farm is on the coastal plateau so is perfectly situated to walk down to the secluded creeks of the harbour, the dramatic channel coast line and beaches, or Salcombe estuary. The cabin was built by local carpenters using local wood and as many reclaimed items as possible. The doors came from a house in East Portlemouth, the floor from a house in Salcombe and the wood all came from Holden Forest near Exeter. The driftwood for the bed came from a local beach. Stand in the cabin and you have incredible views through the huge window down the valley. Sit on the veranda and read your book in complete peace, light a fire, let your children play in the meadow or the shallow brook. Alternatively head to the beach for the day in the knowledge you have some where incredible to come back to. This is a truly special little place.
Where is Driftwood Cabin?
• The Cabin is in a field called 'The Meadow' about 150 metres from Meadow Barn Farm. Your nearest neighbours are Morris and Mable (Devon Large Black pigs), some naughty chickens and a flock of Devon Closewool sheep. There are also some mischievous miniature sheep.
• The Meadow is next to Hassey Field which is the sight of a Scheduled Ancient Monument. At some point (2500 years ago ish…) there was a settlement here and this can be vaguely seen from the sky. So we know even the ancients loved the spot. I speculated that they liked it hear as it is close to the sea but they could also see Dartmoor (their other home).
• The post code for Meadow Barn Farm is TQ88PN. Meadow barn is about 15 mins walk from East Portlemouth Village
• What most people want to know is 'How far are the beaches / walks and where can I get a coffee / beer? So……. You can get lots of coffee and beer in Salcombe. There is a ferry that runs from East Portlemouth and is about 25 mins walk from us. Gara Rock Hotel and beach is about 15 mins walk which is open to the public and serves cold beer and hot coffee. All the beaches are close by and you can walk, cycle or drive to them. They are all nice but if pushed we would recommend Mill Bay for Families or Gara Beach (Seacombe Sands) for couples. There are endless coastal, creek, and country side walks.
• Meadow Barn Farm has a Salcombe address but is on the other side of the water from Salcombe. Please be aware of this. Getting to Salcombe is easy during the day but more tricky at night. Please call us for more info if you need it with regards to getting to and from Salcombe.
• Meadow barn farm is about 20 minutes' drive from Kingsbridge, 50 minutes' drive from Totnes and 30 minutes' drive from Dartmouth.
• If you know the area – we are on the East Prawle to East Portlemouth road near the Gara Rock Turning. We are closer to East Portlemouth than East Prawle. It takes about 30 minutes to walk to East Prawle from us or 5 minutes to drive.
Details of the Accommodation
• The Cabin is off grid and has Solar / battery lighting.
• The wagon Cabin is suitable for couples or families. As a family group the cabin will sleep a maximum of 5 people including 2 adults and 3 children. There is the driftwood bed, a double sofa bed and we can arrange one more single mattress for the floor. Please be aware this will be 'cabin living' and you will all be in close quarters in the same room together.
• There is a cool box in the cabin and access to a fridge near the Farm House/Barn.
• There is a waterless loo and a large hot shower cubicle and a sink in the tin bathroom. The cabin has its own boiler so there is hot running water.
• The cabin has two gas hob rings. All the basic kitchen / cooking equipment is provided.
• There is fresh drinking water from the taps.
• There is a fantastic wood burning stove for chilly nights but as the cabin is insulated with sheep's wool you will find you rarely need it.
• There is a covered veranda area on which to sit and relax
• All linen and towels are provided.
• Duvets, 2 pillows and blankets are provided.
• Torches are provided but feel free to bring your own as ours are basic.
• The ladder for the driftwood bed is on a rather interesting pulley system.
• The sash windows will keep you cool in the summer.
• There is a fire area and a picnic bench, you are welcome to bring a BBQ.
• The view is incredible and looks back towards Dartmouth.
• There is parking for one car, approx. 100m away.
• There are a variety of free-range sheep and chickens wandering around. There is also some pigs in an enclosure. They are friendly but remain farm animals. If you are staying, we will make sure the sheep are not in the same field as you are. The chickens we cannot vouch for……
• We often have our own bacon, sausages and eggs available to buy. We also buy in bottles of milk from Dartmouth dairy that you can also buy from us if you need it.
• We are a few hundred yards from the High Nature Centre who run amazing eco and wellness focused events and courses during the summer season. You can view their website here: www.high-nature.co.uk
Around and about
• Once at the cabin you can get supplies by going to Salcombe on the ferry where there are shops. Make sure you bring some supplies for your first night.
• There is a small shop in East Prawle opposite the Pigs Nose Pub in that is open during the season.
• The last shops on the way here if you are traveling by car are either in Kingsbridge or there is a Spar at East Charleton Garage. This is also the nearest fuel stop
• Meadow Barn Farm is a great place to walk from. You can walk to Gara Rock Hotel (www.gararaock.com) by the South West Coastal Path or to the Millbrook Pub in South Pool or to The Pigs Nose Inn in Prawle. If you are planning on walking at night bring a torch.
• The Beaches of East Portlemouth are beautiful, harbour coves and are about 25 minutes' walk away.
• There are endless creeks and coastal or inland walks to explore.
• There is a café by the ferry during the season on the East Portlemouth side of the Eastuary.
• The nearest towns are Salcombe and Kingsbridge. The nearest Garage is in West Charleton.
• There are plenty of pubs, restaurants and cafes in the locality but expect to walk, cycle or drive.
• Gara Rock Hotel is really close by and is a fantastic place to look out across the channel, have a beer or a coffee.
Getting to and from Driftwood Cabin
• Head to Meadow Barn Farm (TQ88PN) and we will can show the cabin when you arrive.
• Buses will take you to Kingsbridge or Salcombe and we can pick you up by prior arrangement.
• The nearest train station is in Totnes from where there are trains to Bristol and London.
• There is lots of opportunity to cycle down here so bring a bike if you like. The hills can be steep though, and the roads narrow. However, as we are on top of the hill, we are at the same height above sea level as East Prawle so cycling there is really easy.
• Taxis are easy to get from Totnes or Kingsbridge. If you are going to an event locally it can be harder to secure a taxi for short local distances as we are so remote. I am happy to help with lifts if you can't find anything else but just check with me in advance ('me' being John).
If you have any specific questions feel free to email us at hello@meadowbarnfarm.com or call 01548844157 / 07983855099 or 07834163954
Other Accommodation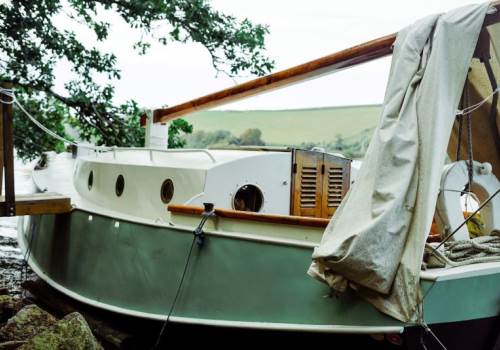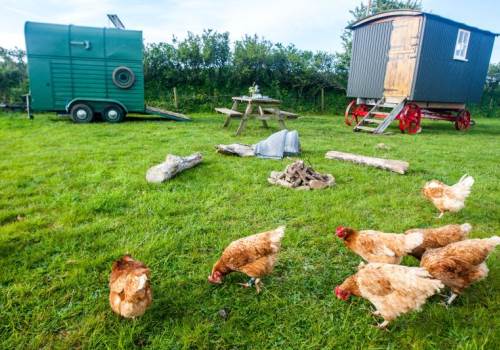 Hut
Sleeps 4
1 bedroom
Max 1 pet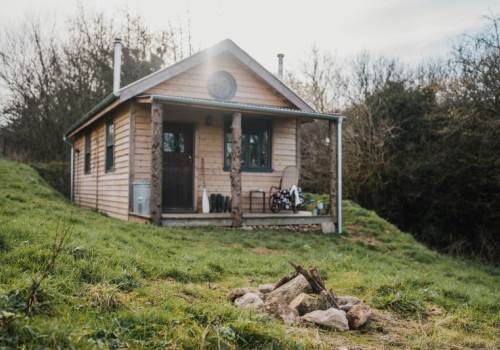 Cabin
Sleeps 4
2 bedrooms
Max 1 pet